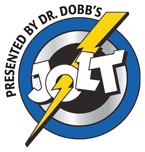 We are pleased to announce that HttpWatch is a finalist in the Utilities category of the 19th Jolt Product Excellence Awards.
The Jolt Product Excellence Awards are run by CMP Technology's Dr. Dobb's. For the past 18 years, the Jolt awards have been presented annually to showcase products that have "jolted" the industry with their significance and made the task of creating software faster, easier, and more efficient.
The final winner in each category will be announced March 11, 2009 at the SD West conference in Santa Clara, CA.