Today, we've released a major update to HttpWatch. The biggest news is that has mobile support: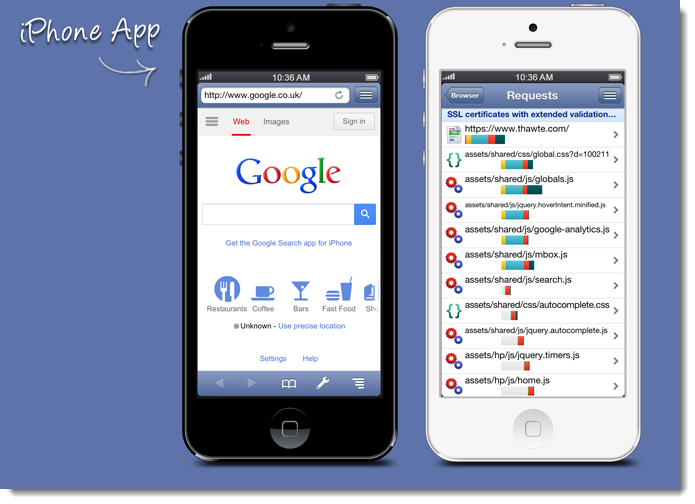 This isn't a cut down, limited version of HttpWatch for the iPhone. It shares the following powerful features with the plugins for IE and Firefox on Windows:
Shows real time waterfall charts as a page is loaded
Shows byte level streams sent to and received from the web server
Opens and saves log files in HWL or HAR format
Displays information about compression, content, cookies, headers and errors
The log files can be sent by email or transferred to a Mac or PC through iTunes file sharing.
There's a free Basic Edition app and a paid for Professional Edition app – with the same file sharing capabilities as their Windows equivalents. For example, you could record an HWL file with the free Basic Edition on the iPhone and then view the data in detail using the Professional Edition on Windows.
The version 9.0 update of HttpWatch for Windows has also been enhanced. The IE plugin records SSL handshake timings: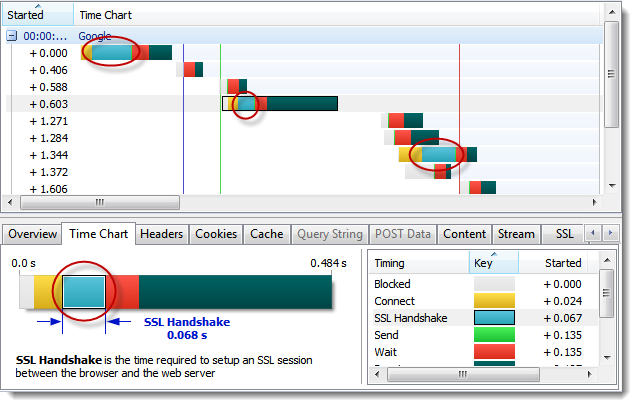 and displays information about the type of SSL connection being used:

(These SSL related features are available in IE and the iPhone app, but not Firefox in the current version)
Also, now in version 9.0 the log file records the name and type of device being used:


Any customers eligible for a free upgrade to HttpWatch Professional can install the latest version using their existing license key. If you're not sure whether your license will work with version 9.0 go to Help->Check For Updates in HttpWatch and it will show you any available updates or upgrades.
The HttpWatch iPhone apps are available in the app store on your device or through iTunes on your Mac or PC: