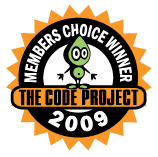 Code Project recently offered its six million members the chance to vote for their favourite software product in a number of different categories:
"Members were asked to rate their favorites on http://catalog.codeproject.com/ . The Code Project staff then compiled the highest rated listings, awarding the highest ranked in each product category. It is, indeed, an honor to be ranked highest in your category."
The results were announced at TechEd 2009 and we were pleased to learn that HttpWatch was the winner in the Debugging category.
Thank you to everyone who voted for HttpWatch.