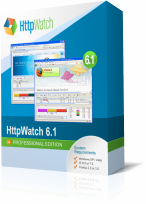 Version 6.1 is now available for download. It contains fixes, improvements and the following new features:
The contents of the Property window can be included on print-outs
The POST tab now has a size column and an Export button
Two new setting have been added to Tools->Options->General to give greater control over the use of HttpWatch shortcut keys in the Internet Explorer and Firefox plugins.
A more detailed list of the changes can be viewed on the version history page or the version history RSS feed.