Occasionally, our customers run into a problem when installing HttpWatch on a PC or server that has no internet access, e.g. to test web servers in a locked down production environment. The HttpWatch add-on for Internet Explorer installs and works correctly but the HttpWatch Chrome extension is not added because access to the Google Web Store is required for automatic installation.
Without an internet connection the HttpWatch Chrome extension has to be manually added using the steps shown in this blog post. Although the details below relate to HttpWatch, the same technique can be used to install any Chrome extension to an offline PC.
Step #1 – Download the Chrome Extension's CRX file
Chrome extensions are packaged in CRX files and they can be manually downloaded from the Google Web Store. You'll need to do that on another PC that is connected to the internet by either using a Google Chrome extension such as the Get CRX extension or by using the following download URL:
https://clients2.google.com/service/update2/crx?response=redirect&prodversion=78&acceptformat=crx2,crx3&x=id%3Ddajhhgiioackgdldomhppobgjbinhimh%26uc
(Download using a different browser as Chrome will block an attempt to access a CRX file.)
The general form of this download URL is:
https://clients2.google.com/service/update2/crx?response=redirect&prodversion=[PRODVERSION]&acceptformat=crx2,crx3&x=id%3D[EXTENSIONID]%26uc
Where [PRODVERSION] is the version of Chrome you're using and [EXTENSIONID] is the extension ID. You can find the ID by looking at the extension in the Web Store and noting the last part of the URL. The acceptformat=crx2,crx3 argument is required for recent versions of Chrome that use the CRX3 header format.
For example, the ID of the HttpWatch extension is 'dajhhgiioackgdldomhppobgjbinhimh':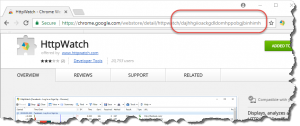 UPDATE: The CRX file is now available in the HttpWatch install directory (version 11.0.25+).
Step #2 – Add the CRX file to Chrome
Copy the CRX file to the offline PC and then open the Chrome extensions page (chrome:://extensions). Make sure that Developer Mode is enabled. Drag and drop the CRX file onto the extensions page to manually add the extension to Chrome: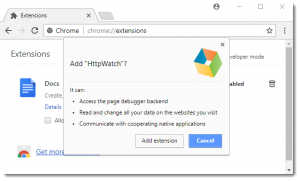 After clicking 'Add Extension' the HttpWatch extension will be available in Chrome: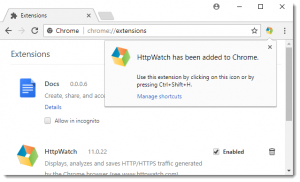 The extension is now fully installed and available for use. Of course, you will not receive automatic updates to the extension unless you connect to the internet or repeat steps 1) and 2). You can turn off Developer Mode again after installing the extension.
UPDATE #1: If you get a "Package is invalid 'CRX_HEADER_INVALID'" error check that you are using the acceptformat=crx2,crx3 argument in the download URL.
UPDATE #2: recent versions of Chrome reject the CRX with the error "Apps, extensions and user scripts cannot be added from this website". A work-around for this error is to enable Developer Mode on the extensions page. You can switch Developer Mode off again after you have installed the extension.